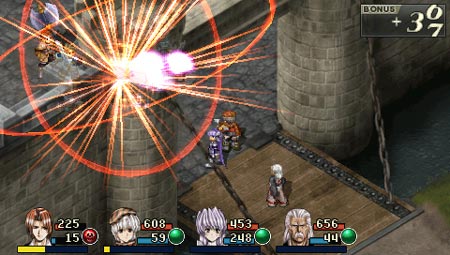 Das Taktik-Rollenspiel "Growlanser: Wayfarer of Time" ist crazy: Das Spiel verfügt über sage und schreibe 40 verschiedene Endings. Eigentlich ein PS2-Titel aus dem Jahr 2003, hat das Game im Westen bislang nie das Licht der Welt erblickt; doch das ändert sich nun mit dem PSP-Port.
Ähnlich wie "Diablo" ist das Teil ein Dungeon-Crawler, der aus der isometrischen Perspektive präsentiert wird. Auch zufallsgenerierte Dungeons gibt es. Das Ausrüstungssystem ist anders, wie man es eigentlich von Rollenspielen kennt: Ihr könnt zwei Teile an Rüstung tragen, eines davon ist die sogenannte "Ring Weapon". Das ist eine Art Hochtechnologie und stellt sicher, dass euer Charakter verschiedene Waffen bekommt, die von seiner Persönlichkeit abhängen. Solche Ringe werden von diversen Gegnern fallengelassen. Insgesamt könnt ihr so 100 verschieden Typen finden, die eure Attribute boosten.
Hier steht der NTSC-Release bevor und deshalb hat Atlus neue Grafiken veröffentlicht:
13 screens, "Growlanser: Wayfarer of Time", via gamekyo.com.
Das Spiel erscheint am 31. Juli.
Hier habt ihr noch einen Link zur inoffiziellen "Growlanser"-Fan-Community: http://growlanser-realm.com/.
---
.: Social Bookmarks :.
(hover over the icons to expand the menu)