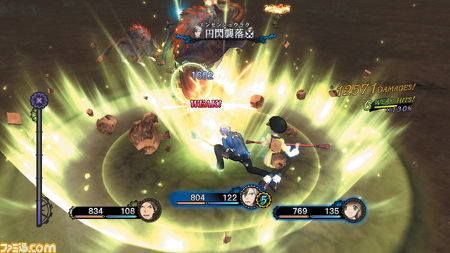 In "Tales of Xillia 2″, dem 14. Hauptspiel der "Tales"-Reihe von Namco Bandai, lautet der Leitspruch: Seid ihr bereit die Welt wegen einem Mädchen zu zerstören? Was das bedeuten soll ist bisher nicht so ganz klar, da noch kaum Informationen zur Story bekannt sind, doch es hat wohl viel mit Schicksal zu tun und überhaupt gehört es zu der Sorte japanischer Rollenspiele, wo eure Entscheidungen den weiteren Verlauf und auch die Zukunft beeinflussen werden.
Die aktuellsten Bilder dazu zeigen erneut die Protagonisten, aber auch ein paar Eindrücke zu den Battles sind dabei, was ein Novum darstellt:
15 screens, "Tales of Xillia 2″, via gamekyo.com.
Die animierten Zwischensequenzen übernimmt Ufotable, die im Westen jetzt weniger bekannt sind, aber diese Arbeit bereits beim Vorgänger meistern konnten.
Die Veröffentlichung findet am 1. November statt.
---
.: Social Bookmarks :.
(hover over the icons to expand the menu)