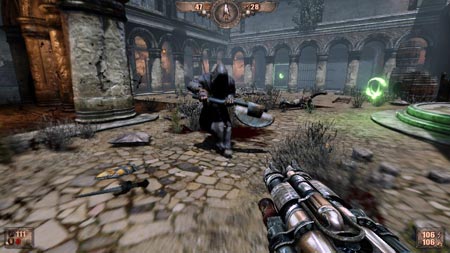 "Painkiller: Hell and Damnation" ist ein Remake des Originals aus dem Jahr 2004, wird jedoch von The Farm 51 und nicht von Dreamcatcher/Nordic entwickelt.
Das Spiel ist in etwa ein "Doom"- oder "Quake"-Klon, mit dem Unterschied, dass die Thematik noch einen Tick düsterer ist. Es geht um Himmel und Hölle, Luzifer, Mittelalter und natürlich um das Killen von Unmengen an Monstern. Ein typischer Shooter eben, nichts für Zartbesaitete, aber auch nichts wirklich Intelligentes.
Anyway, es gibt erste Grafiken zu diesem Spiel, die herrlich hässlich sind, aber die meiste Zeit sind eben auch die Monster zu sehen:
12 screens, "Painkiller, Hell and Damnation", via gamekyo.com.
Wann das Game kommt ist noch unklar, zum ersten Mal vorgestellt wurde es auch erst auf der diesjährigen E3 vor wenigen Monaten.
---
.: Social Bookmarks :.
(hover over the icons to expand the menu)