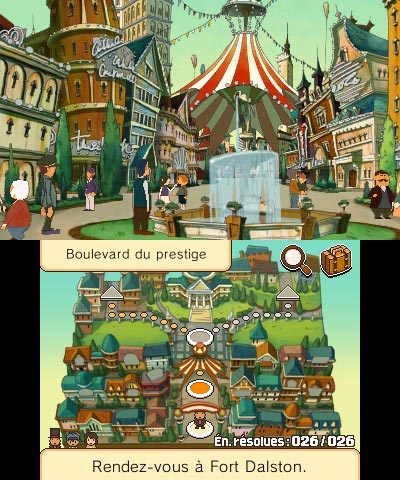 Layton muss in seinem fünften Abenteuer zusammen mit seinem Adjutanten Luke und der reizenden Assistentin Emmy Altava nach Monte d'Or reisen. Das ist eine schlaflose, europäisch inspirierte Stadt, die gerade ihren 18. Geburtstag feiert und wo ein Karnival stattfindet, als das Spiel beginnt.
Angela Ledore, eine ehemalige Schulfreundin Laytons, hat um die Anwesenheit des Trios gebeten, da die Stadt jüngst von einem mysteriösen Mann terrorisiert wird, dem Masked Gentleman. Der wiederum prophezeite die Zerstörung der Stadt durch diese ominöse Maske.
Was dann kommt, kann sich jeder denken, der bereits Layton-Games gezockt hat: Rätsel, Rätsel und nochmal Rätsel. Und zwar solche, die man nach dem Spielen auch gerne im Gedächtnis behält. Viele davon sind legendär und manche auch uralt. Großes Kino.
Jedenfalls, wir haben nochmal neue Screenies für euch:
21 screens, "Professor Layton and the Mircacle Mask", via gamekyo.com.
Wir wissen nicht, was so lange gedauert hat. Das Game war in Japan ein Starttitel für den 3DS und ist dort schon seit Februar 2011 zu haben. Zu uns kommt es aber erst am 26. Oktober, in die USA sogar noch zwei Tage später. Nun, besser spät als nie…
---
.: Social Bookmarks :.
(hover over the icons to expand the menu)