es sind erste screenshots zum kommenden blockbuster für die ps2, "god of war II" aufgetaucht:
gameinformer.com – god of war II
ein erscheinungstermin steht anscheinend auch schon fest: januar 2007. unter obigem link findet sich ein interview mit director cory barlog, der rede und antwort steht, bzgl. story der fortsetzung, kratos zukunft und killer-kombos. der text ist auf englisch. of course…

wahnsinn. checkt edijos tripledecker-casemod: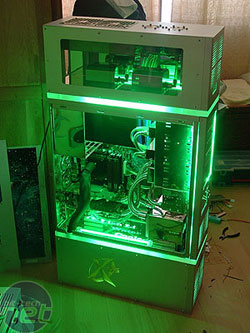 mit einem simplen alu-case hat alles angefangen. durch den mod ist alles wassergekühlt, oben und unten ist die kühlanlage verstaut, ein kreislauf kühlt den prozessor, ein zweiter die grafikkarte, wieviel stunden es gedauert hat weiss edijo nicht mehr.
seinen kompletten bericht, inklusive bilder, workshop: