Archiv für 8. November 2006

so ein typ, der zuviel zeit hat, hat sich "halo"-waffen als replica gebastelt und vertickt die nun über ebay: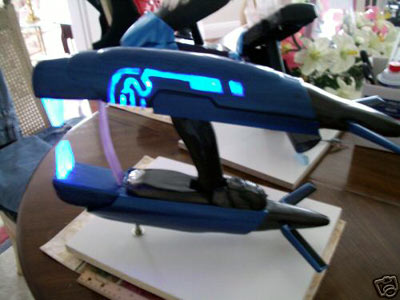 zum einen bietet er ein 4-fuss-langes plasmaschwert zum kauf an, welches mit ladegerät und an/aus-schalter daherkommt. das bild oben zeigt meines wissen die schutzhülle der pseudowaffe. er will 650$, wenn man es direkt bei ihm bestellt, die auktion selber fängt bei 230$ an:
halo-plasmaschwert bei ebay.com – ab 230$ [via]
alles ziemlich teuer, aber bei ebay gibt es immer jemanden, der es kauft.

first4figures.com hat metroid-kotobuyaki im angebot: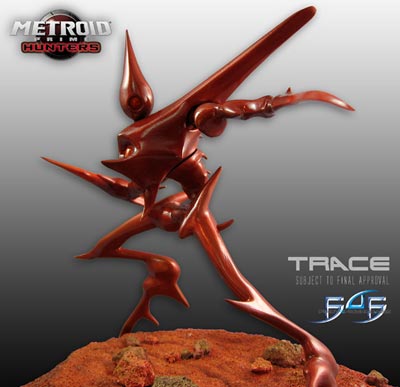 diese abstrakte figur heisst "trace":
"trace is a kriken. one of the most hated and feared races in the galaxy. every kriken, when he or she reaches a certain age, is exiled by its clan for a rite of passage. in this ritual, the youth is sent out to find a world suitable for invasion and consumption by the greedy and rapacious krikens. young krikens who return having successfully found a habitat for their people are regaled as heroes, and are assured a life of power, wealth, and prestige."
der preis liegt hier bei 70€, limitiert auf 1500 stück und erhältlich ab 2007. [via]

checkt die actionfiguren zum ps2-blockbuster "shadow of the colossus":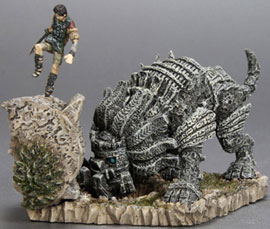 die figuren sind bisher japan-only, es gibt sechs an der zahl und sie werden in zufälligen boxen verkauft. es soll auch eine geheimnisvolle siebte figur geben, aber man weiss es nicht so genau. sie wechseln für umgerechnet 50€ den besitzer. [mehr] [via]
wenn ich in zukunft kotobuyaki anstatt actionfiguren sage, dann habt ihr erstens was gelernt und zweitens gibt es speziell für japanische goodies diesen begriff.