da frohlockt das retro-herz: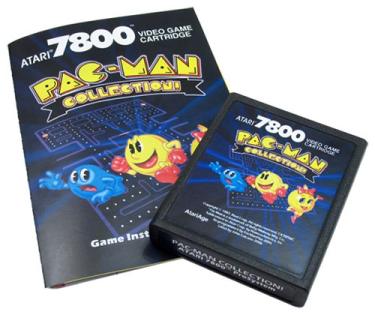 diese ultimative "pacman-collection" ist für den atari 7800 gedacht! ich weiss nicht so recht, ob da draussen noch jemand ernsthaft diese konsole zockt, ich hatte selber einen c64. aber dieses ding heute noch zu benutzen ist vielleicht nicht ganz so toll. wasauchimmer, enthalten in diesem pacman-paket für den absoluten hardcore-pacman-fan vielleicht sind:
* Pac-Man (The Original!)
* Puck Man (Same game, more difficult maze)
* Hangly Man (Empty Mazes? Vertical Tunnels? Invisible Mazes?)
* Ultra Pac-Man (6 New Mazes for a new variety)
* Random Mazes (You just never know which maze will appear next!)
* Ms. Pac-Man (The second installment of the Pac-Family)
* Ms. Pac-Attack (Same game, more challenging mazes)
* Ms. Random Mazes (Like Random Mazes above, but with the Ms. flavor)
eine farbige(!) anleitung ist auch dabei. kauft es direkt bei atari. [via]
---
.: Social Bookmarks :.