was man hier sieht ist ein apache-kampfhubschrauber: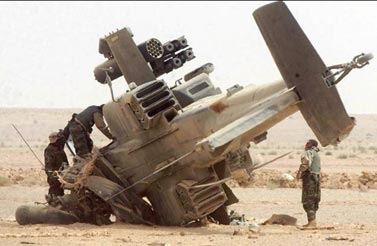 er ist nicht mehr so ganz fit und dreht uns seinen rücken zu. ein paar soldaten holen noch ihre letzten lunchpakete und bongs aus dem wrack. wie das passieren konnte? nun, vielleicht liegt es am britischen militär. das versucht nämlich schüler direkt aus der penne für das militär zu rekrutieren, ganz speziell hat es dabei 17-jährige im auge. warum? checkt die erklärung eines armee-offiziers:
"a new generation of computer-game playing youngsters glued to their PlayStations, Xboxes, and Game Boys" has already developed "some" of the skills necessary to fly an Apache."
heisst im klartext: zocken zahlt sich im endeffekt aus und das militär grossbritanniens sagt, ihr habt automatisch einige der fähigkeiten, die es braucht, einen apache zu fliegen. wenn das mal keine meldung ist. [via]
---
.: Social Bookmarks :.