Archiv für 26. Januar 2007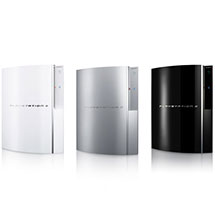 am 23. märz kommt die playstation3 nach europa. sie wird vorerst nur in der 60gb-version für stolze 600€ vertickt. hier die liste, welche spiele es zum start ebenfalls zu kaufen geben wird:
Blast Factor, Sony, Bluepoint Games Online
Blazing Angels Squadrons of WWII, Ubisoft, Disc
Call of Duty 3 Activision, Treyarch, Disc
Def Jam: Icon, EA Games, EA Chicago Disc
Enchanted Arms, Ubisoft, TBA Disc
FEAR, Vivendi Day 1 Studios, Disc
Fight Night Round 3, EA Games,EA Disc
FlOw, Sony TGC, Online
Formula One Championship Edition, Sony, SCEE Disc
Full Auto 2: Battlelines, Sega, Pseudo Interactive Disc
Genji: Days of the Blade, Sony, Game Republic Disc
Go Puzzle!, Sony, TBA Online
Go Sudoku!, Sony, Sony Online
Gripshift, Sony Online Ent., Sidhe Online
Gundam: Crossfire, Atari, Bandai Ent. Company Disc
Lemmings, Sony, Team 17 Online
Marvel: Ultimate Alliance, Activision, Raven Software Disc
Motorstorm, Sony, Evolution Studios Disc
NBA 2K7, Take Two, Visual Concepts Disc
NBA Street: Homecourt, EA Games, EA Canada Disc
Need for Speed Carbon, EA Games, EA Black Box Disc
NHL 2K7, Take Two, 2K Sports Disc
Ridge Racer 7, Sony Namco, Disc
Resistance: Fall of Man, Sony, Insomniac Disc
Sonic The Hedgehog, THQ, Sonic Team Disc
Super Rub'a'Dub, Sony, TBA Online
Tekken: Dark Resurrection, Sony Namco, Online
The Godfather: The Don's Edition, EA, Disc
The Elder Scrolls IV: Oblivion, Ubisoft, Bethesda Disc
Tiger Woods PGA Tour '07, EA Sports, EA Canada Disc
Tom Clancy's Splinter Cell Double Agent, Ubisoft, Ubisoft Disc
Tony Hawk's Project 8, Activision, Neversoft Disc
Untold Legends: Dark Kingdom, EA, Sony Online Ent. Disc
Virtua Fighter 5, Sega, Disc
Virtua Tennis 3, Sega, Disc
World Snooker Championship 2007, Sega, Disc
[via]
ähnliches spiel wie bei der ps2: fortsetzung nach fortsetzung nach fortsetzung… keine frage: es sind ein paar coole fortsetzungen dabei… aber ob die den horrenden preis von 600€ rechtfertigen will ich mal stark bezweifeln, zumal es zu vielen games noch ps2- bzw. versionen für andere systeme gibt.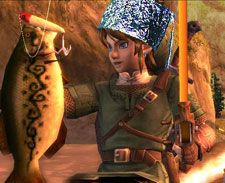 (oben: link sichert sich ab gegen elektrische strahlen aus dem weltall)
anscheinend haben es einige ostereier in "zelda: twilight princess" geschafft. in einem forum auf ign.com wurden diese von der community gesammelt und aufgelistet (englisch):
die ostereier in "twilight princess" – eine sammlung. [via]
es gibt zum beispiel ein werk von m.c. escher im game, eschers "other world" heisst dort oocca. man kann auch die kürbisse giessen, damit man bessere items bekommt. das "ordon schild" ist einzigartig. so wird das eben weitergesponnen, für hardcore-zelda-zocker nicht ganz uninteressant.

also einen roboter so zu programmieren, dass er mit dem "wiimote" gesteuert werden kann ist eine sache, aber diesem ding dann auch noch ein schwert in die hand zu geben ist grob fahrlässig. schaut das video, entwickelt wurde der "wiiboter" von ein paar freax @ "usmechatronics":
[via]
die ganzen moves, v.a. die mit dem schwert und auch die geräusche, die dieses monstrum macht, wenn es den arm schwingt, erinnern mich alle irgendwie an japanische animes, wenn die protagonisten in ihre futuristischen, transformermässigen kampfroboter steigen. da funktioniert das ähnlich: hebt man den arm, hebt der roboterpanzer den arm, usw. ich warte auf den tag, an dem jedes kind seinen "wiiboter" bekommt, mit dem sich die nachbarschaft auseinandernehmen lässt… das wird lustig.