merkt euch die details dieser verpackungshülle: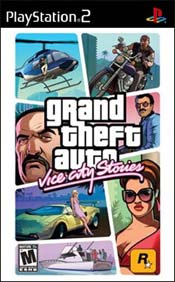 sie haben es also doch noch geschafft und in den europäischen weiten dieser welt darf ab dem 9. märz für 25€ "vice city stories" für die ps2 erstanden werden. in diesem fall haben sich also die positiven gerüchte bewahrheitet, besser so.
die "stories"-reihe ist zeitlich kürzer als die eigentlichen gta-titel zu meistern, die bisher für die ps2 erschienen sind. auch story-technisch ist der film vielleicht 1/4 einer eigentlichen gta-folge lang, kultig und ein muss zu sehen aber in jedem fall. in einem monat also: back to the good old bloody 80s-neon-gangster-schlachten.
---
.: Social Bookmarks :.