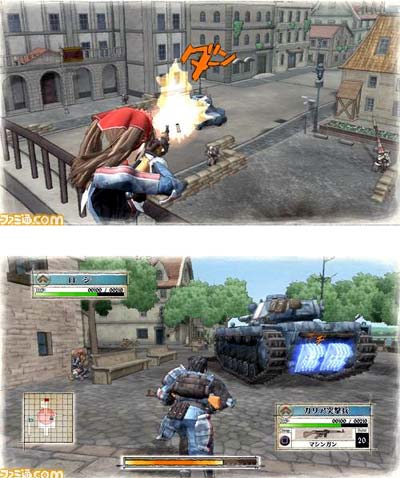 junge, der titel dieses games ist überkorrekt: "valkyrie of the battlefield". check.
hier birgt ein kriegsspiel potenzial einen style-award abzustauben, denn alles sieht sehr anime-haft wasserfarben-mässig aus. es trägt wohl ebenso rollenspiel-züge, wobei das hauptaugenmerk auf "blitz" ruht, das für "battle of live tactical zones" steht. sega versucht so den charakteren erst taktische befehle zu geben, bevor sie sich schliesslich in die action stürzen, oben sieht man zwei in-game-shots aus der perspektive der dritten person.
viele screens sind bisher leider nicht erhältlich, ausserdem ist ein release ausserhalb japans, wo das spiel im frühjahr 2008 kommen soll, noch nicht ganz klar. hier sind die weiteren grafischen eindrücke.
---
.: Social Bookmarks :.