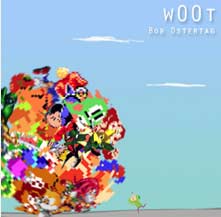 "w00t" ist eine compilation von bob ostertag und john cooney, die ausschliesslich aus videogame-bildern und -sounds besteht. die 50 minuten lange scheibe gibt es kostenlos zum download unter:
bobostertag.com/music-recordings-w00t.htm. [via]
die töne stammen aus folgenden spielen:
Balloon Fight, Congo Bongo, Contra, Earthbound, Halo: Combat Evolved, Ico, Katamari Damacy, Killer Instinct, The Legend of Zelda, Massive Assault, Myst, Star Fox, Super Metroid, Super Smash Bros.: Melee, Viewtiful Joe, WarioWare, Inc: Mega Party Game$, World of Warcraft
da diese cd unter einer cc-lizenz veröffentlicht wird, kann man das album tauschen, verschenken, remixen, wie es euch beliebt.
klar, experimentell wird dieses teil schon sein, aber holt sie euch trotzdem und schreibt in den kommentaren, wie das bei euch angekommen ist!
---
.: Social Bookmarks :.