Archiv für 28. Januar 2008

was viele nicht wissen: jan delay war mein früherer chemie-lehrer, der redete genauso behindert und sah ungefähr so aus: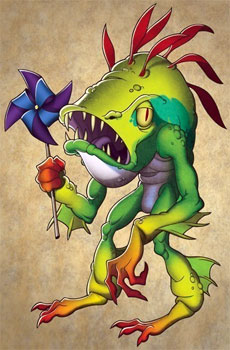 am rande erwähnt werden sollte weiterhin, dass diese figur ein tribut des kollegen cyberhadji an den sogenannten murloc ist. die preise für seine werke ohne versand liegen im 7€-micropayment-bereich, dort findet sich die galerie:
etsy.com/shop.php?user_id=5124403&order=&section_id=&page=1.
[via]

weil electronic arts dem grössenwahn verfallen und zum m$ der videospielbranche mutiert ist, bringt das hoffnungslos überfrachtete destructoid nun einen coolen artikel:
die ersten drei stichpunkte:
1: EA was founded by the descendants of Elizabeth Bathory and Genghis Kahn, whose previously unrecorded (and unbelievable, but just go with it) tryst ended with the spawning of a race of nocturnal bat-like creatures with hairy scales and leathery eyes. They now live underground where their legs have atrophied into useless stubs and they now use mechanical shells to move around. A bit like Daleks, but they're not Daleks.

2: Electronic Arts was originally believed to be founded by Trip Hawkins, but this is a lie. Hawkins' real identity is used car salesman Manny Maplins, who was kidnapped by the true creators of EA, who had his brain removed and replaced with a sparrow which flies around inside his skull, directing his actions. This explains why Hawkins now makes mobile phone games.

3: Contrary to popular belief, it was not Judas that betrayed Jesus to the Romans for thirty pieces of silver. It was actually EA that betrayed him for the NFL license.
wer kein englisch kann, dem hilft der eingebaute translator, welcher sich hinter dem fahnenicon versteckt, sicher weiter.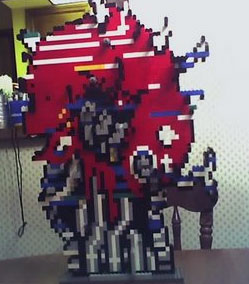 das beliebteste spielzeug des planeten wird dann dieser tage auch schon 50. herzlichen glückwunsch und auf das nächste halbe jahrhundert! so ein typ namens lwelyk sammelt seine eigenkreationen inspiriert durch videospiel-szenerien unter folgender adresse:
http://lwelyk-legos.blogspot.com/. [via]
alle gehirnbehinderten spielen weiterhin playmobil.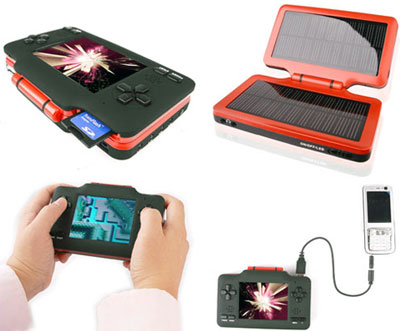 die chinesen schicken diese konkrete kreation ins rennen, die mit der sonne aufgeladen werden kann. die spezifikationen sind folgende:
# Memory: 2GB
# External Memory: SD Card (max 2GB)
# Display: 3.5 Inch TFT LCD 1.6 Million Color
# Video Format: AVI
Conversion formats: MPG 1, 2, 4
Video Resolution: 320×240
FPS (Frames per Second): 25fps
# Music Format: MP3, WMA, AMR, WAV, ADPCM, PCM
Bit rate: 32-320Kbps
# Picture Format: JPEG, BMP, GIF animation photos
# Built in MIC
Record Format: WAV
# Earphone Jack: 2x 3.5mm
# SNR (Signal to Noise Ratio): 90dB
# Output of earphones: 2x 10mW (16Ohm)
# Output of Speaker: 20mW
# Languages: English, Chinese, Thai, Korean, Japanese, German, Portuguese, Italian, French, Dutch, Russian
# USB: 2.0
# System: Windows 98/SE/ME/2000/XP
# Power Source: Built in Rechargeable Li-ion Battery
# Dimension: Unit closed- 94x140x28mm (LxWxD)
# Manufacturer Ref.: KD5HJGM7MF2X

# Solar/ USB/ DC 5V rechargeable
# USB OUT for recharging devices with rechargeable batteries (digital cameras, MP4 players, mobile phones, ect)
Selectable Voltage: 4.5V, 5V, 6.3V, 9V
# Built in high brightness LED flashlight
# FC/NES/GB/GBC emulator
# D-Pad + 4 button control
# Save game slots
# E-Book with reading capacity: will read out loud any TXT file in Chinese or English. Other Romance languages can be read, but the pronunciation will very often be incorrect
# MP3 Music can play while E-Book is being used
# Photo Zoom in + out / move right + left
# ID3 tag + Lyric display
[via]
der preis, der bei runden 84€ liegt, kann sich durchaus sehen lassen. die idee gefällt nintendo vielleicht nicht, aber der eine oder andere yaber auf zockerseele-junkfood wird sich dagegen kaum wehren können. zum produkt: dort bidde.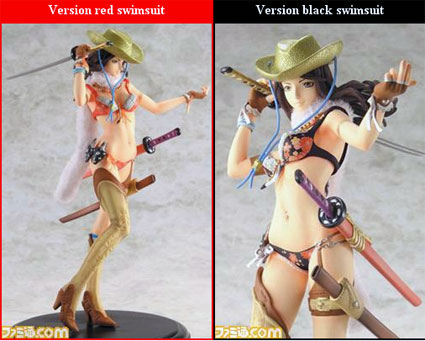 bereits ende oktober gab es erste screenies zu "onee chanbara".
die figuren zum cowgirl-wii-kracher stehen ab dem 7. februar in den läden von hongkong und japan bereit zum kaufen. [via]
gefällt mir als kotobukiya-junkie wieder mal bestens. preis ist leider unbekannt, aber aufgrund des detailreichtums wird es wohl kein billiger spass.

mtv berichtet aktuell in seinem externen online-spiele-medium, dass "rockstar" den vierten teil der "grand theft auto"-serie zum 29. april ausliefern wird. [via]
zu den weiteren neuigkeiten zählen zudem ein neues zielerfassungs-system, höhere nutzbarkeit von taxis in der stadt, damit man nicht die ganze zeit autos klauen muss (unnötig, meines erachtens. es heisst ja auch nicht "grand theft taxi"), knöllchen bei kreuzungen und ampeln ficken, sowie einem überarbeiteten "wanted"-status.
mehr zu "gta IV" aus unserem archiv: siehe.