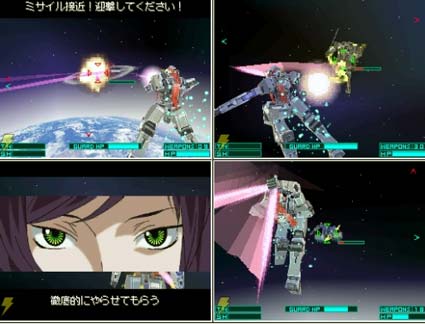 ich bin ein fan der "gundam musou"-reihe, obwohl ich bisher kein einziges spiel selber gespielt habe. es rührt wohl von meiner zone of the enders-zeit her, auf der ps2, dass mir übercoole mechas nicht unbekannt sind.
dengeki hat für euch 28 screenshots, hauptsächlich zu den spielfiguren, aber auch szenen in aktion sind dabei:
erste eindrücke zur ds-version. [via]
"mobile suit gundam 00" ist ursprünglich eine anime-serie über 25 folgen, die von oktober bis märz im japanischen fernsehen läuft. das spiel ist in nippon ab dem 29. märz käuflich. mehr infos zur anime-serie (auf englisch): en.wikipedia.org/wiki/Gundam_00.
---
.: Social Bookmarks :.

1 Power-Up zu "screenshots: mobile suit gundam 00"