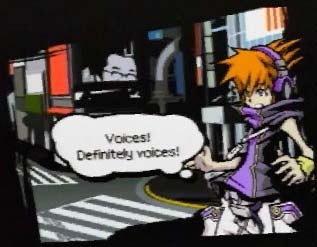 nds-besitzer in europa sollten sich den morgigen tag ankreuzen, denn dann kommt "the world ends with you" raus.
bei diesem action-rollenspiel, das von den kingdom-hearts-machern stammt, hat die hauptfigur neku sakuraba die fähigkeit gedanken von mitmenschen zu lesen, nachdem er einen mysteriösen totenkopf-pin in der hand hielt. dann klingelt plötzlich sein handy und eine textnachricht, die er nicht löschen kann, erscheint: "Reach 104. You have 60 minutes. Fail, and face erasure. -The Reapers".. die 60 minuten bekommt er als timer in seine rechte hand eingebrannt. fortan spielt er das "reapers-game", das sieben tage dauert und in denen er den shibuya-distrikt tokyos nicht verlassen kann…
zur offiziellen website (flash, englisch):
der ausführliche eintrag bei wikipedia (englisch):
en.wikipedia.org/wiki/The_World_Ends_With_You.
game informer gab dem spiel 8,25 von 10 punkten und das prädikat "handheld-spiel des monats mai 2008". auch andere waren sehr angetan: edge – 8 von 10; famitsu – 35 von 40; gamepro – 9 von 10; ign 9 von 10; nintendo power – 9 von 10.
---
.: Social Bookmarks :.