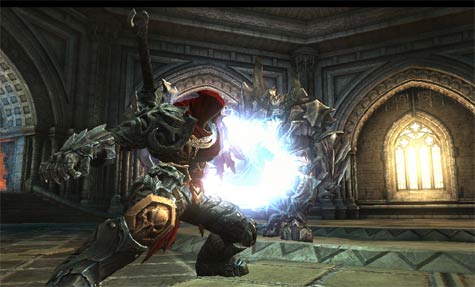 vigil games arbeiten dieser tage an einem düsteren action-adventure mit dem titel "darksiders: wrath of war". für diejenigen, die es bisher zu gesicht bekamen, soll es eine mischung aus "god of war" und "zelda: twilight princess" darstellen, was in jedem fall neugierig macht. erste screenies und fettes artwork gibt es dort:
12 screenshots inkl. artwork(!) zu "darksiders: wrath of war".
die spieler werden die möglichkeit bekommen war zu steuern, einen der vier reiter der apokalypse, der die erde ins chaos stürzen soll. die erscheinung des charakters ändert sich im laufe des spiels, die spielwelt ist eine unbekannte stadt und soll, wie bei gta, frei erkundbar sein. erscheinungstermin: wohl zweites oder drittes quartal 2009.
---
.: Social Bookmarks :.