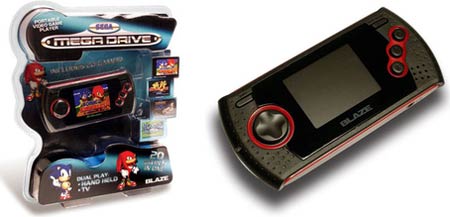 dieser kleine kollege heisst "blaze", ist eine 16bit-konsole und emuliert den megadrive. sie bringt 20 spiele gleich mit, offiziell lizensiert durch sega, als da wären:
Sonic and Knuckles, Golden Axe, Shinobi, Ecco the Dolphin, Alex Kidd – Enchanted Castle, Alien Storm Altered Beast, Arrow Flash, Crackdown, Decap Attack, Dr Robotnik's Mean Bean Machine, Ecco Junior, Flicky, Gain Ground, Jewel Master, Kid Chameleon, Sonic Spinball und Shadow Dancer
[via]
bestellen kann man den blaze online bei http://segaretro.net/. kostenpunkt: ca. 40€, ohne versand.
---
.: Social Bookmarks :.