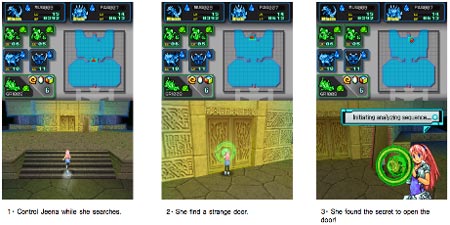 jupiter und disney entwickeln zusammen "spectrobes – beyond the portals" für den nds. dieses action-rollenspiel wird ein anime-sci-fi-erlebnis, erste screens und spezifisches artwork findet man bei:
omgnintendo, "spectrobes ds", 13 grafiken.
in diesem spiel kann man auf anderen planeten neue spectrobes finden. die planeten sind:
Kollin – Third planet in the Nanairo System. This is the home planet and location of the NPP (National Planetary Patrol) Headquarters,
genshi – First planet in the Nanairo System. It is volcanically active and covered in lush jungles.
Nox – The center of this dead planet in the Hakaba System looks like it has been gouged out.
Fons – Located in the Kagero System, Fons is a lush planet of forests and lakes. There is dark lake in the center.
Fons Satellite – An ancient satellite floating in space above the planet Fons.
in den usa erscheint das game heute, die anderen weltregionen sollen aber noch dieses jahr nachfolgen.
---
.: Social Bookmarks :.

1 Power-Up zu "preview: spectrobes – beyond the portals"