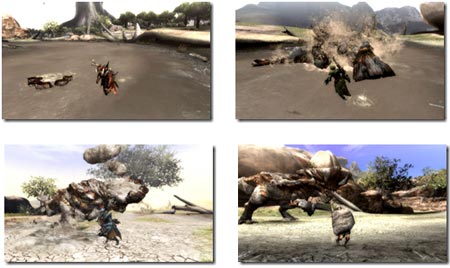 capcom ist guter dinge, dass "monster hunter 3", eine unglaublich erfolgreiche videogame-serie in japan, auch im westen veröffentlicht werden könnte. erneut haben wir screens dazu gefunden:
14 mal "monster hunter 3", via siliconera.com.
hier ein überblick zu den features:
~New monsters:
•Jagii; a new water type raptor
•Dosujagii; The Jagii drome
•Jagiinosu; Currently unknown, possibly a water dwelling herbivor
•Kurupekko; A new bird-wyvern that can call other monsters to its aid
•Ragiakurusu; The main monster of the game, and electrical levithan that can go on land and water
•'Water Minions'; Possibly a larger form of the Jagiinosu, only seen underwater
•Boruborosu; A new rock wyvern, a cross between a diablos and a basarios with its own unique status 'Adobe'
•'Ant minions'; Over sized ants, these are the main food source for the Boruborosu but not much else is known
•'Leaf-headed Lynian'; A new lynian, may be an aid for the hunter or could be a new form of shakalaka
das ganze kommt im sommer raus in nippon und bringt auch unterwasser-levels mit.
---
.: Social Bookmarks :.