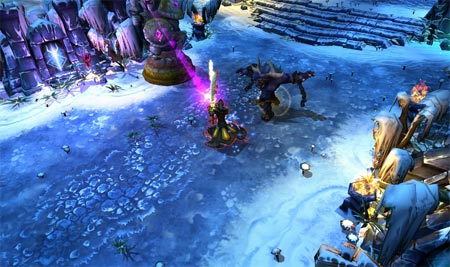 irgendwie sehen die screens zu "league of legends – clash of fates" schon bekannt aus, aber fragt mich nicht, an welches spiel sie mich erinnern. hmmm, seht selbst, vielleicht kommt ihr ja drauf:
10 mal "league of legends", via destructoid.com.
die bemühungen sind aller ehren wert: zwei designer eines warcraft III-mods sind am start, die ihr gameplay so bahnbrechend fanden, dass die sich dachten, man könne doch ein komplett neues spiel machen. so entstand ein mix aus mmorpg, strategie und action.
was aus einem netzwerk kommt, bleibt auch im netzwerk und so wird das endprodukt nur als digitale version zum herunterladen erhältlich sein; von dem, was wir bisher wissen, gibt es keine packung davon, die man in einem elektronikladen kaufen kann.
whatever, wir sind gespannt, ob es rocken wird, momentan befindet es sich in der beta.
---
.: Social Bookmarks :.