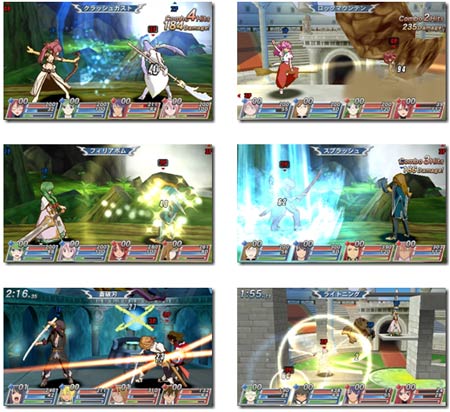 im august kommt namco bandais action-rollenspiel-prügler-mixtur "tales of vs" in japan heraus, ein ähnlicher titel wie "dissidia", mit den helden aus den zahlreichen "tales …"-episoden. tonnenweise screens könnt ihr euch dazu reinziehen:
26 screens, "tales of vs.", via siliconera.com.
das wird erfreulich komplex, mit story-modus, zahlreichen mini-games, leveln mit ereignissen (z.b. tornado) und natürlich myriaden kämpfer/kämpferinnen. da die titel bei uns weniger bekannt sind und auch teilweise erst noch erscheinen müssen, ist die veröffentlichung in pal- oder ntsc-regionen noch nicht gesichert.
---
.: Social Bookmarks :.