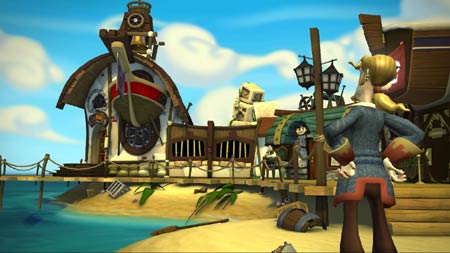 bei dem ganzen rummel um die e3 hätte ich fast vergessen zu erwähnen, dass noch diesen sommer ein neuer teil der legendären monkey island-serie mit dem titel "tales of monkey island" kommt. das wird dann in fünf zusammenhängenden episoden erzählt und guybrush threepwood muss irgendein virus neutralisieren, den er selbst freigesetzt hat und piraten in zombies verwandelt. checkt die sympathischen screens dazu:
15 screens, "tales of monkey island", via golem.de.
das spiel wird sowohl wie die alten teile auch für den pc, sowie die wii zu haben sein und zwar anfang juli. alle folgen im paket werden dann 35$ kosten.
---
.: Social Bookmarks :.