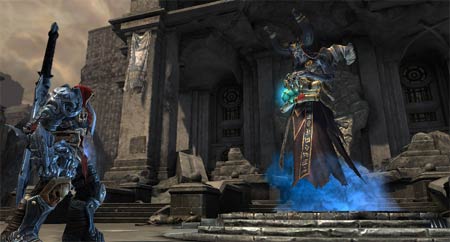 thq hat den untertitel gekickt: "darksiders" heisst jetzt nur noch "darksiders" und nicht mehr "darksiders – wrath of war". das spiel bleibt aber natürlich das selbe und hier gibt es neue schnappschüsse:
8 mal "darksiders", via destructoid.com.
das game erscheint am 1. januar 2010 und wird dann eine mischung aus "god of war" trifft "devil may cry" trifft "legend of zelda".
storytechnisch seid ihr einer der vier reiter der apokalypse und das klingt nach einer menge zerstörung. wir drücken die daumen.
---
.: Social Bookmarks :.