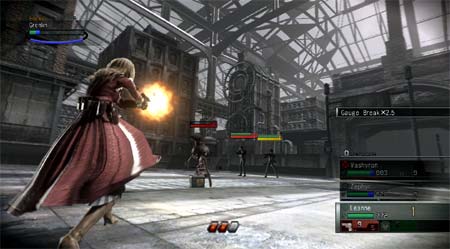 auch jede pause ist irgendwann zuende, daher weiter im text.
für europa gibt es immer noch keinen festen termin zu "resonance of fate", die usa jedoch bekommen das game am 9. märz.
die allererste zusammenarbeit zwischen tri-ace und sega ist vom titel her eine direkte referenz zu isaac asimov. um was es geht haben wir bereits an anderer stelle erwähnt, deshalb schiessen wir ohne grosse umschweife weitere screens nach:
26 mal "resonance of fate", via gamekyo.com.
wir sind beeindruckt, welch dichte stimmung hier bereits rüberkommt. das ganze erinnert an feinste steampunk-settings. wenn dieser hohe qualitätsanspruch sich auch im fertigen produkt wiederfindet, wovon wir jetzt mal ausgehen, dann wird "rof" eine harte konkurrenz zu "final fantasy XIII", das ja zum selben zeitpunkt erscheint.
---
.: Social Bookmarks :.