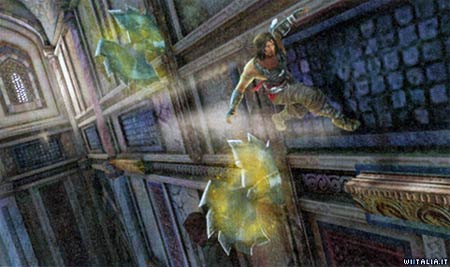 wie wahrscheinlich viele viele andere, gehöre ich zu der sorte pc-gamer, die mit "prince of persia" damals, so anfang der 90er, auf einem hochmodernen 386er erste erfahrungen mit richtig guten pc-games gemacht haben. die serie gibt es schon sehr lange und sie wird auch immer weiterentwickelt, der vorläufige gipfel steht uns wahrscheinlich noch dieses jahr ins haus, mit einem richtig aufwendigen hollywood-film.
jedenfalls, ich fühle mich schon ein wenig zurückversetzt und sehe in prince of persia the forgotten sands ein game, das ich sicher gespielt hätte irgendwo bei einem freund, wäre ich heute nochmal 12.
die wii-version sieht schonmal sehr gut aus:
9 mal "prince of persia the forgotten sands", via wiitalia.it.
storytechnisch wird man hier zurückgehen zu "sands of time". es erscheint für sämtliche plattformen und wird von ubisoft montreal entwickelt. termin bei uns ist der 20. mai.
---
.: Social Bookmarks :.