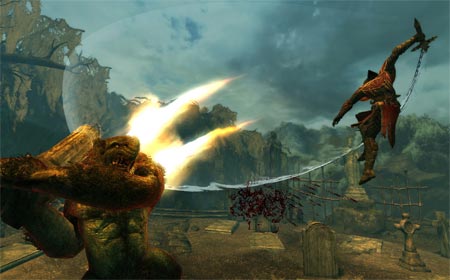 fast ein jahr ist es nun her, dass wir etwas zu "castlevania – lords of shadow" geschrieben haben. das setting dieses action-adventures spielt im mittelalter eines fiktiven südeuropa. überraschenderweise ist auch hideo kojima und sein kojima productions studio involviert, wenngleich auf einer minimalen ebene. doch nun zu den aktuellen grafiken:
15 mal "castlevania – lords of shadow", via aeropause.com.
da sind sehr detailierte szenen dabei und gabriel hat einen part in der luft, während er die unterschiedlichsten monster und/oder goblins bekämpft.
"lords of shadow" wird kein typischer castlevania-titel. lange zeit war auch überhaupt nicht klar, dass es sich bei der bezeichnung um ein castlevania-spiel handelt. dadurch wird die story eigenständiger sein als bei anderen episoden der serie.
der release soll noch in diesem jahr stattfinden. "lords of shadow" befindet sich momentan auf platz 26 von 100 bei games radar, was die erwartungshaltung der zocker betrifft.

---
.: Social Bookmarks :.