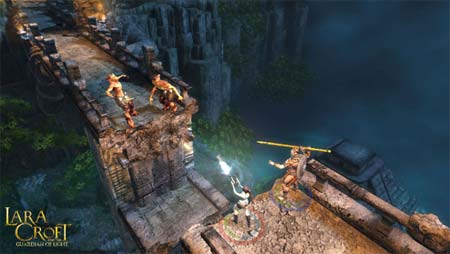 die sexy schatzsucherin ist zurück: crystal dynamics wird "lara croft: guardian of light" ausschliesslich als download-spiel zur verfügung stellen. es erscheint im sommer, bringt ca. sechs stunden spielspass mit und wird 15$/11€ kosten.
einen vorgeschmack bieten die ersten screens:
preview: "lara croft: guardian of light", via joystiq.com.
so richtig "tomb raider"-typisch wird das gameplay nicht ablaufen: ihr habt eine isometrische sicht auf das spielgeschehen. als genre ist immer noch action angegeben, doch irgendwie sollen auch einflüsse aus arcade-maschinen mit einfliessen.
lara bekommt ausserdem einen maya-stammesführer an ihre seite. so kann jederzeit ein zweiter spieler einsteigen, wenn er das möchte.
---
.: Social Bookmarks :.