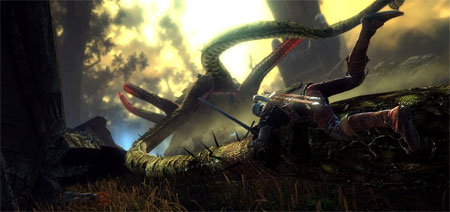 der monster-schlachtende antiheld geralt kehrt zurück in "the witcher 2" und bekommt ein abenteuer, das besser aussieht, komplexer ablaufen wird und sich auch besser verkaufen soll als der vorgänger. das ganze wird es jedoch nicht vor frühjahr 2011 geben, daher bleibt den fans nichts anderes übrig als weiter auf screenie-jagd zu gehen. und hier kommen wir ins spiel:
13 neue screens, "the witcher 2", via gamespot.com.
momentan ist nur eine pc-version angedacht, man sucht nach einem publisher für die konsolen-version.
das polnische entwicklerstudio cd projekt gibt es seit 1994, erfahrungen haben die u.a. mit "baldur's gate" und "heroes of might and magic". in den usa wird atari den titel veröffentlichen.
---
.: Social Bookmarks :.