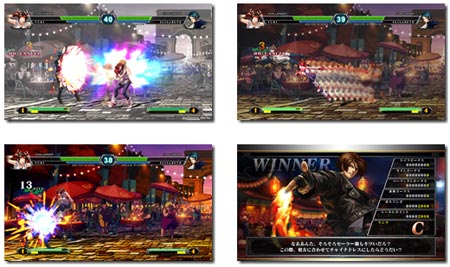 snk playmore erzählt die geschichte aus "king of fighters 2003" mit "king of fighters XIII" weiter. wie immer erscheint der prügler zuerst für arcade-plattformen und dann, oftmals mit einer verspätung von mehreren monaten, für konsolen.
das gameplay aus dem zwölften teil soll im grossen und ganzen das gleiche bleiben. drei neue moves, die EX, hyper drive und NEO MAX heissen, werden hinzukommen. da sind entweder abbrecher- oder verkettungs-modifikationen.
bei den charakteren setzt man den fans zuliebe auf alles, was rang und namen in den vorgängern hatte. auch mai, yuri und king sind also dabei. einen ersten eindruck liefern die nun folgenden grafiken:
8 mal "king of fighters XIII", via siliconera.com.
release wird diesen sommer sein, zumindest in japan.
---
.: Social Bookmarks :.