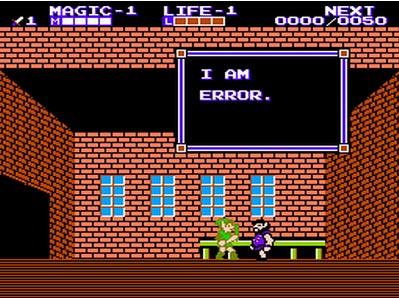 in den 90er-jahren trug die übersetzung von japanischen videogames in andere sprachen oft seltsame blüten. am einfachsten zu entdecken waren noch die unmengen an rechtschreibfehlern, schwieriger wurde es, wenn man durch die übersetzung am ende nicht mehr wusste, was eigentlich gemeint war. zwar konnte man natürlich trotzdem in den meisten fällen weiterspielen, doch bestimmte zitat-szenen haben sich einfach ins gedächtnis gebrannt.
the kartel widmet sich diesen sprach- und zitat-exoten. sie haben eine top10-liste gemacht, mit den witzigsten und merkwürdigsten beispielen, entnommen aus der guten alten nes-zeit:
top10 videogame zitate, via thekartel.com.
hier die besten zehn im überblick:
10. River City Ransom – "I hold your city captive, and Ryan's girlfriend."
9. StarTropics – "Hide Peter hide awk! Do me so far, do me?"
8. Rambo – "The game doesn't start until you say YES."
7. Zelda II: The Adventure of Link – "I am Error."
6. The Legend of Zelda – "It's dangerous to go alone! Take this."
5. Metal Gear – "I feel asleep."
4. Punch Out!! – "Help! Doc!!" "Join the Nintendo Fun Club today! Mac."
3. Dragon Warrior – "A slime draws near! Command?"
2. Final Fantasy – "Here lies Erdrick."
1. River City Ransom – "Barf!"
ohne screenies ist das alles jedoch nur halb so witzig. da hat sich jemand wirklich die mühe gemacht und die entsprechenden schnappschüsse ausgegraben. respekt!
---
.: Social Bookmarks :.