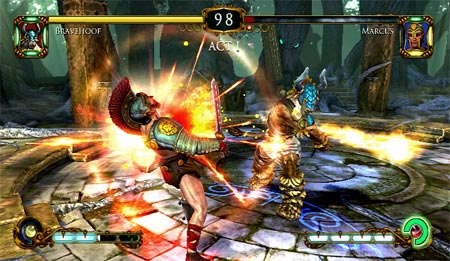 sega und high voltage bringen mit "tournament of legends" ein typisches fighting-game für den us-amerikanischen markt heraus. mit zehn spielbaren charakteren aus der griechisch-römischen mythologie und einem ähnlichen gameplay wie in "punch out!", muss man seinen gegner wie ein gladiator plattmachen. man hat sich hierfür inspirationen bei dem film 300 geholt.
10 screens, "tournament of legends", via nintendoeverything.com.
leider hat man auf einen online-multiplayer-modus verzichtet, der hier durchaus sinn gemacht hätte.
als engine kommt die quantum3 zum einsatz, die man bereits aus "the conduit" kennt. man macht keine gefangenen bei der gewalt-darstellung der kämpfe und vor allem der finishing moves, da brauchte man eine realistische optik. die ntsc-version gibt es noch diesen monat.
---
.: Social Bookmarks :.