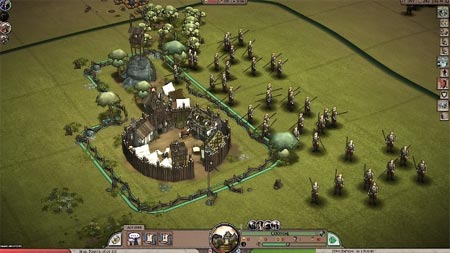 das rundenbasierte strategie-spiel "elemental: war of magic" wird von dem studio stardock entwickelt. der spieler übernimmt hier die rolle eines channeler, der in einer verwüsteten welt sich für die gute oder böse seite entscheiden muss und entweder erlösung oder eben zerstörung bringen kann; mit magie versteht sich.
screens? büdde:
24 screens, "elemental: war of magic", via joystiq.com.
es gibt auf der einen seite menschen und auf der anderen die gefallenen, beide korrumpiert durch die titanen. die elemente sind: erde, feuer, wasser, luft und leben. es besteht auch die möglichkeit diplomatie zu betreiben oder neue einheiten und technologie zu entwickeln. die entwickler versprechen gegen ende des spiels eine macht, die der von sauron und morgoth sehr ähnlich sein soll. na dann!
release ist am 31. august.
---
.: Social Bookmarks :.