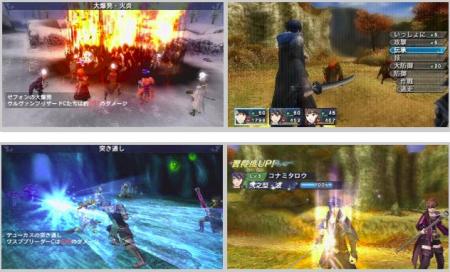 Konami hat die Website zu "Suikoden: The Woven Web of a Century" geupdatet und da sprangen auch ein paar Grafiken zu den Kämpfen im Spiel dabei raus. Was wir wissen ist, dass diese rundenbasiert ablaufen, sobald ihr auf Feinde trefft. Eure Gruppe besteht dabei aus sechs Mitgliedern, wodurch Gruppenangriffe möglich werden.
Das allerneueste Material könnt ihr dort finden:
11 screens, "Suikoden: The Woven Web of a Century", via andriasang.com.
Durch das sogenannte "Skill Transmission System" ist es zudem möglich Fähigkeiten zu erlernen, die bereits in der Spiel-Vergangenheit erlernt wurden. Insgesamt kommen acht Berufstypen.
Am 9. Februar gibt es das dann als Vollversion im japanischen Handel.
---
.: Social Bookmarks :.