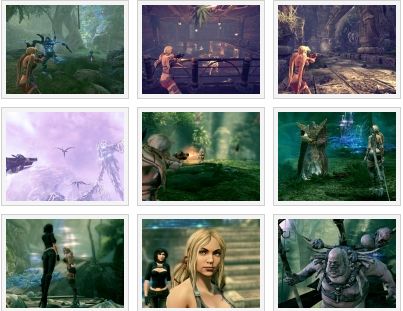 Das Hack'n'Slash-Action-Adventure "Blades of Time" wird von Gaijin Entertainment entwickelt und von Konami für die PS3 und 360 herausgegeben.
Ihr spielt als die Schatzsucherin Ayumi, die auf einer gefährlichen Insel allerlei Geheimnisse lüften muss und gefundene spezielle Fähigkeiten auch für sich selbst in Anspruch nehmen kann.
Macht euch selbst ein Bild, wie das dann aussieht:
41 screens, "Blades of Time", via gamekyo.com.
Das Gameplay enthält ein innovatives Feature namens "Time Rewind", mit dem es möglich sein wird die Aktionen von Ayumi durch einen Klon zu reproduzieren, was hilft Rätsel zu lösen und auch Feinde auseinanderzunehmen.
Release in unseren Breitengraden findet am 16. März statt.
---
.: Social Bookmarks :.