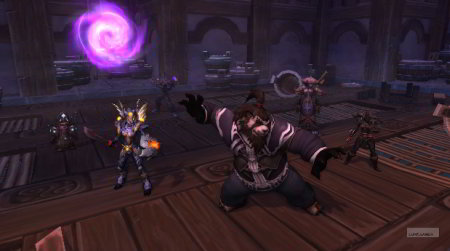 Trotz sinkender Mitgliederzahlen bei "World of Warcraft" (im November 2010 waren es noch 12 Millionen User, ein Jahr später nur noch 10,3 Millionen) schickt Blizzard das insgesamt vierte Add-On für das MMORPG in den Ring. Titel: "Mists of Pandaria".
Der Name ist zum Einen Programm, denn es kommt neben einer neuen Rasse (Kampfpandas!) auch eine neue Klasse: Der Mönch. Ferner wird das Level Cap von 85 auf 90 angehoben, es kommen neue PVE-Szenarios, die Dungeons bekommen neue Challenge Modes, der 41-Punkte-Talent-Baum wird ersetzt und es sollen auch neun komplett neue Dungeons und vier neue Battlegrounds enthalten sein.
Und so wird das Ganze aussehen:
28 screens, "WoW: Mists of Pandaria", via eurogamer.de.
Den neuen Kontinent Pandaria soll man aber nur fliegend erreichen können, wenn man die Maximalstufe hat. Man findet auch diverse Auktionshäuser überall über die fünf Zonen des Kontintents verstreut.
Amazon listet dieses Add-On erst zum 30. September 2012. Bleibt also noch eine Weile Zeit zum Sparen.