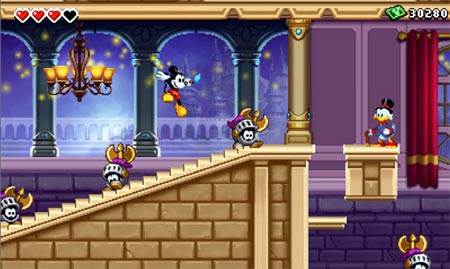 Vor kurzem erst sah man die ersten Scans von "Epic Mickey: The Power of Illusion", der 3DS-Ausgabe des kommenden Action-Adventures. Die waren aber von keiner wirklich hohen Qualität. Das ändern wir heute, denn es gibt die ersten Screenshots:
8 screens, "Epic Mickey: The Power of Illusion", via destructoid.com.
Viele Charaktere aus dem Disney-Universum feiern hier ihr Stelldichein. Oben zum Beispiel sieht man Dagobert Duck. Auch das Gameplay hält eine Innovation bereit: Ihr könnt auf dem unteren Bildschirm Objekte kritzeln, die dann auf dem oberen gerendert erscheinen und in die Spielwelt miteingebaut werden können.
Dass das Game an alte Zeiten erinnert ist übrigens kein Zufall: Man will an die Epoche der "Illusion"-Reihe anknüpfen, die 1990 und 1995 auf Sega Mega Drive und Game Gear zu haben war.
Die Endversion von "The Power of Illusion" wird ab Herbst erhältlich sein.
---
.: Social Bookmarks :.