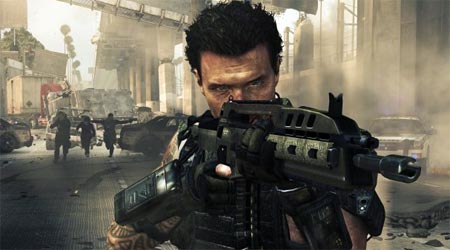 Der FPS "Call of Duty: Black Ops 2" wird von Treyarch und Activision für die PS3 und 360, sowie für den PC entwickelt. Es ist nun auch schon das neunte Spiel der Reihe und ein direkter Nachfolger zu "CoD: Black Ops".
Spielen wird es im 21. Jahrhundert, nicht mehr zur Zeit des Kalten Krieges wie der Vorgänger. Das neue Setting soll futuristischer werden, spekulativ in einer Welt mit einem "Kalten Krieg des 21. Jahrhunderts".
Viel ist es noch nicht, was es visuell dazu gibt, doch es reicht für eine erste Vorschau:
6 screens, "Call of Duty: Black Ops 2", via gamekyo.com.
Details zum Plot gibt es ebenfalls noch nicht, bestätigt wurde aber, dass Los Angeles als Stadt mit von der Partie ist.
Der Release findet am 13. November 2012 statt.
---
.: Social Bookmarks :.