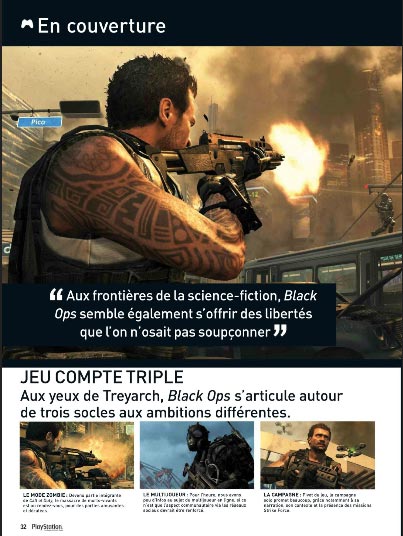 Das offizielle französische PlayStation-Magazin hat sich in ihrer aktuellen Ausgabe "Call of Duty: Black Ops 2" gewidmet. Das ist gut für uns, denn dadurch wurden zahlreiche Scans verfügbar, mit dem neuesten Grafikmaterial:
8 scans: "Call of Duty: Black Ops 2", via allgamesbeta.com.
Als Engine kommt die IW Engine von Infinity Ward zum Zug. Die ist kampferprobt durch die diversen neueren James Bond-Games und hat bereits alle vorherigen CoD-Spiele angetrieben bis zurück zu "CoD 2"; wurde folglich mindestens sieben Mal in insgesamt neun CoD-Games verwendet.
Der Shooter soll ab dem 13. November zu haben sein.
---
.: Social Bookmarks :.