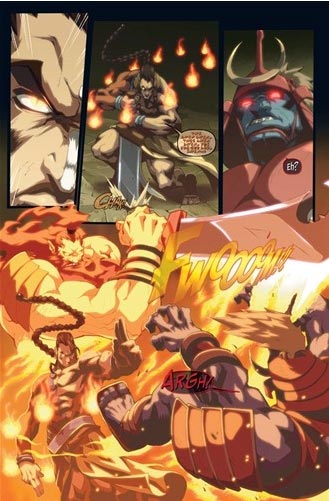 Zwischen 2005 und 2009 hat Udon Comics diverse Comics zum Fighter "Darkstalkers" veröffentlicht, die nun in einem einzigen Buch zusammengeführt werden. Der Titel: "Darkstalkers: The Ultimate Edition".
Auf 264 Seiten gibt es diverse Cover, seltene Illustrationen und natürlich die Inhalte aus "Darkstalkers" und "Darkstalkers: The Night Warriors".
Eine kleine Vorschau könnt ihr euch dort reinziehen:
4 screens, "Darkstalkers: The Ultimate Edition", via siliconera.com.
Die Pics sind allerdings alle Low-Res.
Das Buch könnt ihr euch für 50$/38€ direkt bei Udon besorgen: http://udonentertainment.com/blog/udon/they-stalk-the-night-looking-for-battle/. Wem das zu teuer ist, der findet ein etwas preisgünstigeres Angebot bei Amazon: Dort kostet das Buch 34€ und der Versand ist kostenlos.
---
.: Social Bookmarks :.