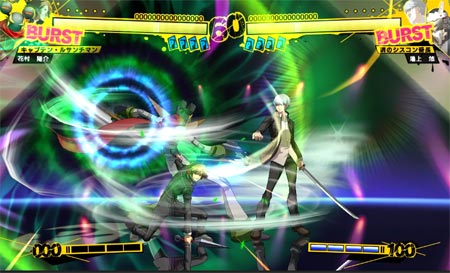 "Persona 4: The Ultimate in Mayonaka Arena" spielt zwei Monate nach den Ereignissen in "Persona 4" und bringt Charaktere aus eben diesem Teil und Teil 3 mit. Der Fighter wird von niemand Geringerem als Arc System Works entwickelt. Da hat Atlus also eine sehr gute Wahl getroffen, denn die "BlazBlue"-Reihe von eben diesem Studio schlägt so schnell niemand.
Es gibt neue Grafiken zum Game, die dritte Runde Screenies sei hiermit eingeläutet:
24 screens, "Persona 4: The Ultimate in Mayonaka Arena", via allgamesbeta.com.
Japan darf das Spiel bereits seit dem 1. März auf Arcade-Maschinen zocken. Die Version für 360 und PS3 erscheint fast zeitgleich im August in Japan und den USA. Leider bisher kein Wort zu einem europäischen Release. Ein Import ist trotzdem Pflicht: In Prüglern wird ja nicht so viel geredet, sondern mehr gehandelt.
---
.: Social Bookmarks :.