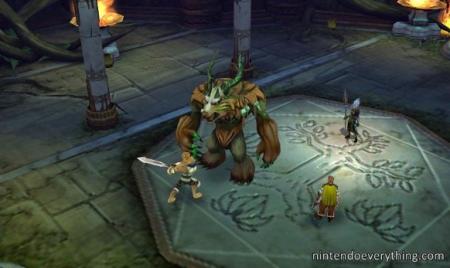 "Heroes of Ruin" ist ein Action-Rollenspiel von Square Enix und n-Space für den 3DS.
Hier folgt man der Geschichte von vier Söldnern, die nach einer Heilung für ihren verfluchten Herrscher suchen, der eine Stadt namens Nexus regiert. Dabei könnt ihr entweder eine kleine Allianz bilden oder ihr agiert als Einzelkämpfer. Das Land selber wird von allerlei dämonischen Kreaturen heimgesucht und es stellt sich zudem heraus, dass diese Heimsuchung viel mit dem Fluch zu tun hat.
Erste Grafiken könnt ihr dort finden:
6 screens, "Heroes of Ruin", via nintendoeverything.com.
Es wird auch diverse Mehrspieler-Aspekte geben, die allerdings auf spezielle Funktionen im Square Enix-Netzwerk zurückgreifen. Es wird also nicht ganz so frei sein.
Das Spiel richtet sich voll dem westlichen Markt: Es gibt keine Japan-Version bislang, erscheint am 15. Juni bei uns und erst am 26. Juni in den USA.
---
.: Social Bookmarks :.