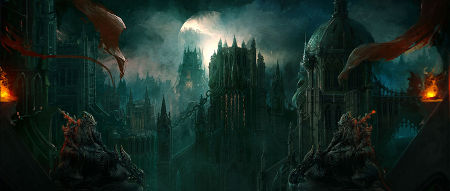 Wie bereits erwähnt bekommt "Castlevania: Lords of Shadow" zwei Nachfolger für PS3 und 360, einer auch für den 3DS. Entwickelt wird es von Mercury Steam und wird in 2D präsentiert, die Umgebungen hingegen in 3D.
Das bisher gezeigte Concept Artwork dazu sieht fantastisch aus:
6 screens, "Castlevania: Lords of Shadow 2", via allgamesbeta.com.
Trevor Belmont und Simon Belmont wurden bisher als spielbare Charaktere bestätigt, außerdem kommen noch zwei weitere Unbekannte hinzu. Das Gameplay ändert sich im Laufe des Spiels und somit auch die steuerbare Spielfigur.
Wann die fertige Version erscheinen soll ist zum jetzigen Zeitpunkt unklar.
---
.: Social Bookmarks :.