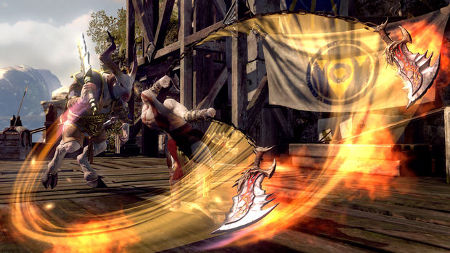 Mit "God of War: Ascension" kommen zwei Neuerungen: Die Präsentation in 3D (die natürlich einen 3D-fähigen Fernseher voraussetzt) und ein Mehrspieler-Modus. Letzteres beinhaltet zwei Teams, die jeweils aus vier Spielern bestehen, die dann bestimmte Maps erobern müssen. So kommt man an allerlei Rüstungssets, Waffen und dergleichen, die von den vier Göttern Zeus, Hades, Ares oder Poseidon bereitgestellt werden.
Das klingt ja schonmal interessant. Interessant sind auch die brandneuen Screenshots, die ihr euch mal anschauen solltet:
9 screens, "God of War: Ascension", via destructoid.com.
Ein alter Bekannter kehrt zurück: Der riesige, hässliche Zyklop.
Als "God of War"-Fan muss man gutes Sitzfleisch mitbringen: Der Release soll erst am 12. März 2013 stattfinden. Das dauert also noch fast ein ganzes Jahr. Wir wollen das Teil j-e-t-z-t!
---
.: Social Bookmarks :.