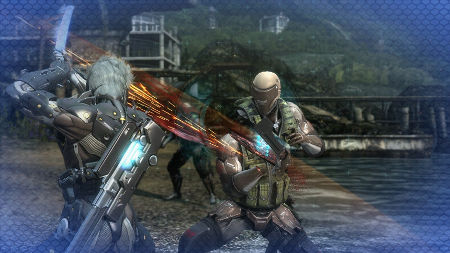 "Metal Gear Rising: Revengeance" spielt einige Jahre nach dem vierten "Metal Gear". Wie bereits aus den kurzen Filmchen ersichtlich spielt hier der gute Cyborg Raiden die Hauptrolle, der beim Wiederaufbau eines unbekannten Landes helfen soll und sich dadurch mit unzähligen Feinden anlegt, die selbst oft Cyborgs sind.
Das, was wir bisher gesehen haben, war ziemlich brutal und von überragender Qualität. Zum ersten Mal können wir auch einen reinen Screenshot-Beitrag machen. Ihr findet die neuesten Bilder hier:
11 screens, "Metal Gear Rising: Revengeance", via jpgames.de.
Hier werden Raidens besondere Fähigkeiten beleuchtet.
Im Herbst, wenn die "Zone of the Enders HD Collection" kommt, wird eine Demo des Spiels dabei sein. Der Release der Vollversion findet im Frühjahr statt.
---
.: Social Bookmarks :.