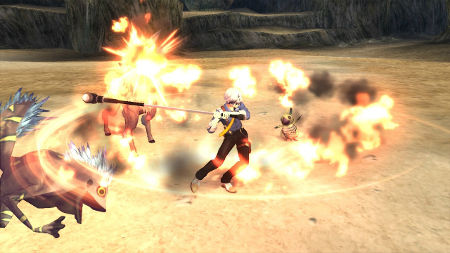 Erst kürzlich hatten wir den Trailer im Angebot zu "Tales of Xillia 2", dem 14. Haupttitel in der "Tales"-Reihe von Namco Bandai. Das Setting spielt ein Jahr nach den Ereignissen des Vorgängers in Elenpios. Uns erwarten auch riesige Städte und futuristische Maschinen.
Heute können wir das erste Mal Grafiken dazu anbieten:
18 screens, "Tales of Xillia 2", via allgamesbeta.com.
Das Game bringt einen neuen Auswahlmodus mit, der mit den Tasten L1 und R1 getriggert werden kann. Je nachdem, wofür sich der Spieler entscheidet, ändern sich z.B. Dialoge während den Zwischensequenzen (kleine Auswirkungen) oder es können Feinde ausgelassen werden (größere Auswirkungen).
Wann das Spiel in den Handel kommt ist unklar, es soll irgendwann im vierten Quartal 2012 so weit sein.
---
.: Social Bookmarks :.