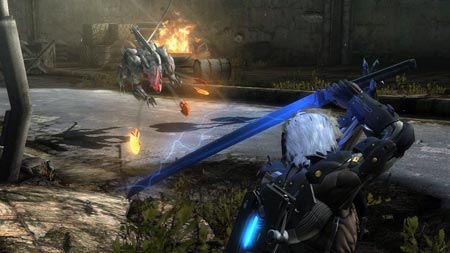 "Metal Gear Rising: Revengeance" wird DAS Cyberpunk-Game 2013! Wobei, das ist so nicht ganz richtig, denn schließlich muss es sich dann auch gegen "Dishonored" und "Watch Dogs" behaupten. Das wird also richtig, richtig schwer.
Ich für meinen Teil kann es kaum erwarten mit Raiden in die Schlachten zu ziehen. Der Cyborg hat was, besonders seine verwendeten Waffen.
Brandneue actiongeladene Screenshots sind aufgetaucht:
5 screens, "Metal Gear Rising: Revengeance", via allgamesbeta.com.
Bereits seit über drei Jahren in der Entwicklung, ist die Story irgendwo zwischen "Metal Gear Solid 2: Sons of Liberty" und "Metal Gear Solid 4: Guns of the Patriots" angesiedelt. Stealth-Elemente wird es darin nicht geben, auch wenn diese ursprünglich geplant waren. Und obwohl das Spiel von Platinum ("Bayonetta") entwickelt wird, so steuert Konami ganz offiziell den Plot und die Charakter-Designs bei.
Keine Frage, da kommt was Großes. Gedulden müssen wir uns trotzdem noch: Der Release findet erst am 21. Februar statt.
---
.: Social Bookmarks :.