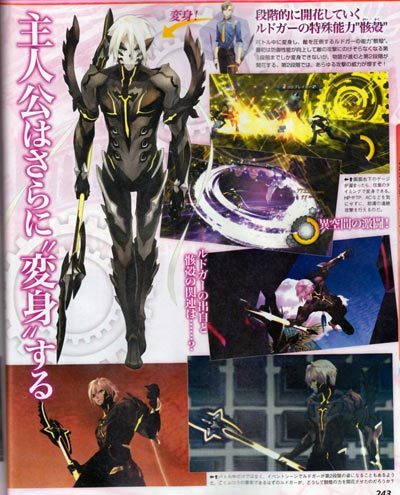 Die "2" trügt ein wenig bei "Tales of Xillia 2": Das Rollenspiel von Namco/Bandai ist das mittlerweile 14. der Hauptserie. Spielen wird die Handlung genau ein Jahr nach "Tales of Xillia", das im September 2011 in Nippon erschien, bei uns in Europa jedoch erst 2013 erhältlich sein wird.
Wir fanden Badass-Scans mit einer Reihe aussagekräftiger Grafiken:
3 scans, "Tales of Xillia 2", via allgamesbeta.com.
Das Spiel wird ab dem 1. November in Japan erhältlich sein.
Designer Hideo Baba verspricht: Es bestehen gute Chancen, dass dieses Game auch international zu haben sein wird. Aber erst kommt natürlich Teil 1. Irgendwann. 2013.
---
.: Social Bookmarks :.