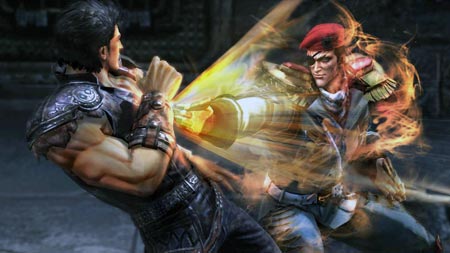 Hier ist mal wieder ein Fighter, von dem wir nie gedacht hätten, dass er jemals zurückkommt: "The Fist of the North Star".
Diese Serie stirbt nie: Beiträge dazu gab es bei uns schon, klar, aber noch für die 360 und PS3. Damals, 2009 und 2010.
Das aktuelle Ding kommt exklusiv für die Wii U. Und gerne hätten wir Details zu den Inhalten geliefert, einzig, es gibt keine. Von daher sind die folgenden Grafiken alles, was es bislang gibt:
13 screens, "The Fist of the North Star 2", via allgamesbeta.com.
Ja, die Wii U kommt. Und mit Getöse. Aber Nintendo ist auch irgendwie in der Bringschuld, denn schließlich hat man diverse Trends (wie z.B. HD) einfach verschlafen, als man die Wii erfand.
Anyway: Fans der Serie dürfen sich freuen. Seit 2007 erschien kein FOTNS mehr für Nintendos High-End-Konsole. Ab geht's!
---
.: Social Bookmarks :.