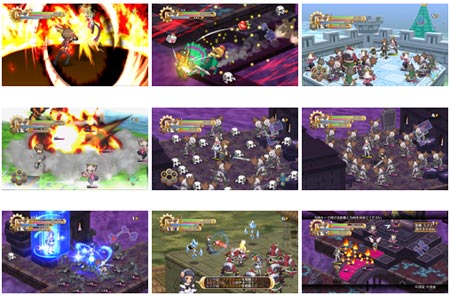 Die japanische Dengeki berichtet von hochauflösenden Grafiken zum NIS-RPG "The God and the Fate Revolution Paradox". Viele davon widmen sich dem Core-Design, das an das PSP-Adventure "Zettai Hero Project" angelehnt ist.
Irgendwie geht ihr bei diesem Spiel jedes Mal zurück auf 1, was die EXP betrifft, sobald ihr den Dungeon verlasst. Eine Art "Total Level" behält allerdings dann auch eure Fähigkeiten bei.
Klingt jetzt alles kompliziert. Und wir denken, das ist es auch. Jedenfalls, checkt massenhaft Screens, bitte hier lang:
35 screens, "The God and the Fate Revolution Paradox", via allgamesbeta.com.
Jedem eurer Helden kann zudem ein Engel als Partner zugewiesen werden. Die wiederum verfügen über Spezial-Kräfte; eben wie es sich für Engel gehört. Man wird sich auch gegenseitig tragen und in der Gegend rumwerfen können, ähnlich wie in "Disgaea". Die Charakteranpassungen sind überaus zahlreich.
Zu haben ab dem 20. Dezember in Nippon.
---
.: Social Bookmarks :.