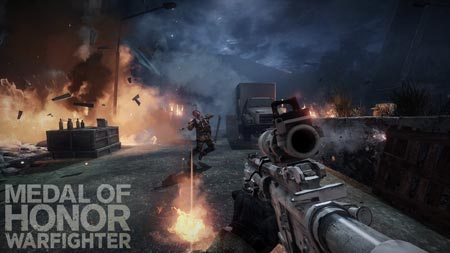 Shooter-Fans aufgemerkt: Es sind neue Grafiken zum Mehrspieler-Modus zu "Medal of Honor: Warfighter" aufgetaucht. Die könnt ihr euch hier ansehen:
8 screens, "Medal of Honor – Warfighter", via allgamesbeta.com.
Die Multiplayer-Inhalte werden diesmal nicht von EA Digital Illusions CE entworfen. Das war beim direkten Vorgänger 2010 nämlich der Fall. Stattdessen setzt man auf ein Eigengewächs von Danger Close Games, das auf der DICE Frostbite 2-Engine basiert.
Darin zu finden sind ferner 12 spielbare Tier-1-Spezialkräfte-Fraktionen aus 10 Ländern:
Australia: SASR
Canada: JTF2
Germany: KSK
Norway: FSK
Poland: GROM
Russia: Alpha Group
South Korea: UDT/SEALs
Sweden: SOG
United Kingdom: SAS
United States: SEALs, SFOD-D, and OGA (CIA SAD/SOG) TIER1 OPERATORS
Jedes Land hat eigene besondere Eigenschaften. Leben & Tod werden dann von euren Statistiken abhängen, also wählt eure Fraktion weise.
In Europa wird ab dem 25. Oktober geballert.
---
.: Social Bookmarks :.